The Social Animal" by David Brooks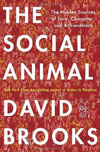 Brooks is, of course, a columnist for "The New York Times." But don't pick up the book expecting the usual political analysis. It's not that at all.
This is a profound meditation on what motivates human beings. What makes them win. What makes them succeed. What makes them love. What makes them relate to each other. It's a lot of neuroscience. Very well presented, wonderfully written.