Editor's note: Victor Cha is senior adviser and Korea chair at the Center for Strategic & International Studies (@CSIS_org), a Washington-based bipartisan think tank, and author of "Beyond the Final Score: The Politics of Sport in Asia."
By Victor Cha - Special to CNN
Jeremy Lin, the benchwarmer-turned-star starting point guard for the New York Knicks, has powered his team to eight victories in nine games, and captured the imagination of people around the world.
Who could resist this story? It's role model, underdog and the unconventional star all rolled into one....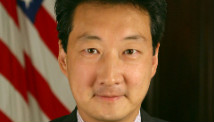 In China today, Linsanity also reigns. You can't find a Jeremy Lin jersey on emptied store shelves (even fake ones). There are millions of microblog posts about the New York phenomenon. Many editorialists have claimed Lin as the "pride of Zhejiang" (Lin's grandmother's homeland in China). Others in politically incorrect terms cite Lin as evidence that "yellow-skinned" people can excel on the global sports stage if given the chance. Chinese state media extensively reported on "Linsanity," or "Linfengkuang," hailing Lin as the pride of China.
Lin's performance on the court unintentionally creates a bond between the United States and Chinese people. Can his layups and intricate passing also help to improve U.S.-China relations after leader-in-waiting Xi Jinping's visit to the United States?
Probably not. First, Lin is a Taiwanese-American, born and raised in Palo Alto, California, which is a bit awkward for China. Some Chinese blog posts have taken shots at their own government by saying that had Lin grown up in China, he would have ended up as an illiterate and mediocre player for the People's Liberation Army team, or by needling with the question, "Why is the first Asian point guard in the NBA not a Chinese national?"
Second, the recent red carpet treatment of China's likely new president, Xi, in the U.S. - and the absence of any major agreements - shows that the future of U.S.-China relations will be difficult. Whether it is the economy (demands for China to act as a stakeholder in global economic recovery and trade fairly), security (demands for transparency on its military buildup), global affairs (complaints about China's veto of a U.N. resolution on Syria), or society (demands for better human rights in China), the U.S. list of complaints about China is long. Beijing is concerned that the new U.S. "pivot" to Asia is window dressing for an effort to contain China. And the Chinese government is worried about pathological U.S. overspending (with skyrocketing debts borrowed from the Chinese). Though they don't say it in polite company, Beijing's leaders see U.S. complaints as those of a declining power, looking to block China's rise rather than finding ways to solve its own internal problems.
And here perhaps is Linsanity's most poignant lesson for U.S.-China relations: China treats well those who succeed, and it politely ignores all others.